Buy online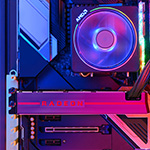 The AMD Radeon ™ RX 5500 XT grafička kartica podiže 1080p gaming na sljedeću razinu, isporučujući ultra-responzivno, visokokvalitetno AAA igranje sa do 60 FPS-a i prati igranje sa do 90 FPS3. AMD Radeon ™ RX 5500 XT opremljen je do 8 GB GDDR6 memorije velike brzine i podrškom za PCI® Express 4.0 za maksimalne performanse u igri, izvanrednu energetsku učinkovitost i izvanrednu vrijednost.
DNK EKSTREMNOG GAMINGA
AMD Radeon ™ RX 5500 XT grafička kartica, sa naprednom 7nm RDNA arhitekturom, sadrži nove računalne jedinice koje pružaju nevjerojatne performanse optimizirane za bolje vizualne efekte kao što su efekti zamagljivanja, dubina polja i multi-level cache hijerarhija za smanjena latencija i brzi odaziv.
PRIBLIŽITE SE REALNOJ SLICI
The AMD Radeon ™ RX 5500 XT grafička kartica omogućuje vjeronos prikaza potopnih eksplozija, efekata fizike i svjetlosnih efekata, oživljavajući stvarni prikaz. RDNA arhitektura visokih performansi dizajnirana je tako da poboljšava značajke poput FidelityFX, Radeon ™Image Sharpening i skaliranja cijelog ekrana za maksimalne performanse..
| | |
| --- | --- |
| Integer Display Scaling | Radeon™ Boost |
| Igrajte klasične igre i ponovno proživite retro iskustvo skaliranjem zaslonskih slika s jednog piksela na četiri piksela (ili više) kako biste oživili retro iskustvo igranja. | Povećajte performanse vašim igramai fluidnosti dinamičkim spuštanjem razlučivosti cijelog okvira kako bi se omogućio veći FPS bez percipiranog uticaja na kvalitetu slike. |
Radeon™ Anti-Lag
Radeon ™ Anti-Lag7 pomaže minimizirati količinu vremena kada igrač pritišće tipku ili pomiče miša i odgovora koji se prikazuje na ekranu. Radeon Anti-Lag može povećati stopu odgovora do 1,4x pri određenoj brzini kadra. Ovo je vrhunska značajka za bilo kojeg igrača ili eSport natjecatelja. Sada s podrškom za DirectX® 9, 11, 12 i Vulkan®.
AMD Radeon™ Software Adrenalin 2020 Edition
Najnovija Radeon ™ softverska inačica Adrenalin 2020 Edition uvodi potpuno redizajnirano korisničko iskustvo uz puni potencijal vašeg GPU-a, s day-0 drajverima optimiziranim za nova izdanja igara i vrlo prilagodljivim igračkim iskustvom.
Radeon FreeSync™ Technology
Dovedite svoje igračko iskustvo na novu razinu. Doživite igranje bez zastoja s AMD Radeon FreeSync ™ 1 i FreeSync ™ 2 HDR2 tehnologijom, kompatibilno na više od 900 monitora.
© 2019 Advanced Micro Devices, Inc. All rights reserved. AMD, the AMD Arrow logo, Ryzen, Radeon, FreeSync and combinations thereof are trademarks of Advanced Micro Devices, Inc. Vulkan and the Vulkan logo are registered trademarks of the Khronos Group Inc. DirectX is either registered trademark or trademark of Microsoft Corporation in the US and/or other countries. Other product names used in this publication are for identification purposes only and may be trademarks of their respective companies.